A lot can happen in a year between Deep Learning Indabas. For InstaDeep, since it helped host the 2022 Indaba in Tunis, the biggest development was becoming part of the BioNTech family. That change led some to ask about its commitment to continuing to helping the AI community across Africa.
InstaDeepers answered at this year's Indaba with action, leading workshops, giving lectures, organising a hackathon, presenting posters, hosting a documentary screening and dropping a surprise announcement at the annual gathering of the African machine learning and artificial intelligence community.
The surprise came at the end of CEO and Co-founder Karim Beguir's talk on lessons learned in scaling an African AI company. He announced InstaDeep's next office would be in Kigali, Rwanda – deepening InstaDeep's commitment to developing Africa's AI ecosystem.
Karim said the office will be led by Arnu Pretorius, InstaDeep's head of AI research in Africa. Arnu was honoured separately by the Deep Learning Indaba community as the winner of the 2023 Kambule Doctoral Award, which celebrates excellence in AI research and writing. The award recognised his PhD thesis "On noise regularized neural networks: initialization, learning, and inference," which tackled a critical issue in neural networks —overfitting— through the introduction of noise. Named in tribute to mathematician Dr. Thamsanqu W. Kambule, first black professor at the University of the Witwatersrand, the award acknowledges outstanding contributions in computational and statistical sciences by doctoral candidates at African universities.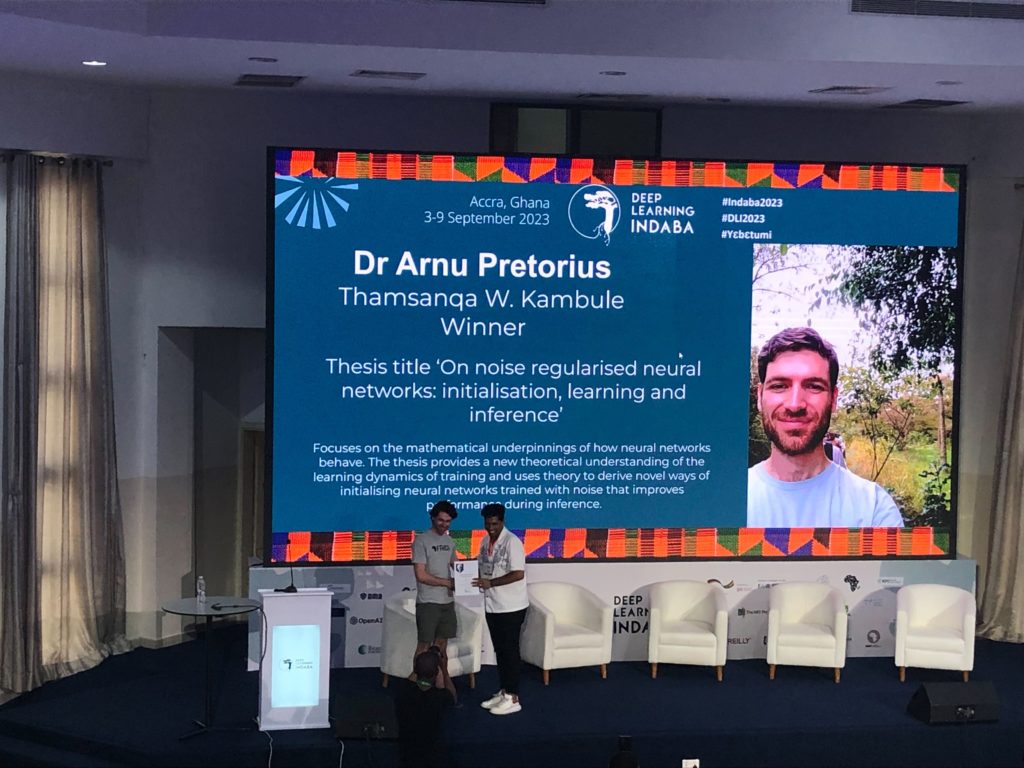 Across the Indaba, InstaDeepers could be found leading sessions and mentoring students from across the continent. Kevin Michael Eloff, Jeroen Van Goey, and Thomas Makkink led sessions on how open source tools could be used to connect machine learning and biology, as Ibrahim Salihu Yusuf helped show how satellite data could be used to create applications aimed at sustainable development goals and while Ruan De Kock, Siddarth Singh and Omayma Majoub helped AI enthusiasts dig into the maths of machine learning.
Our Head of Research Alex Laterre and Head of Engineering Amine Kerkeni also pitched in presenting and as mentors. Meanwhile our head of Bio AI Nicolas Lopez Carranza officially kicked off an InstaDeep hackathon challenge centered on African plant genomics, in partnership with data science competition platform Zindi. InstaDeep Bio AI researchers invited attendees to use AI and ML skills to identify DNA  enhancers that aim to improve the quality and resilience of Ghanaian cassava. The crop is vital for West Africa's food security. Eniola Olaleye won the competition with Siaw-Darko Emmanuel placing second and Paul Okewunmi in third place. More than 144 participants, representing 22 countries, used InstaDeep's AgroNT model, to study cassava DNA and identify regions that might enhance crop yields, nutrient content, and resilience to environmental challenges like drought.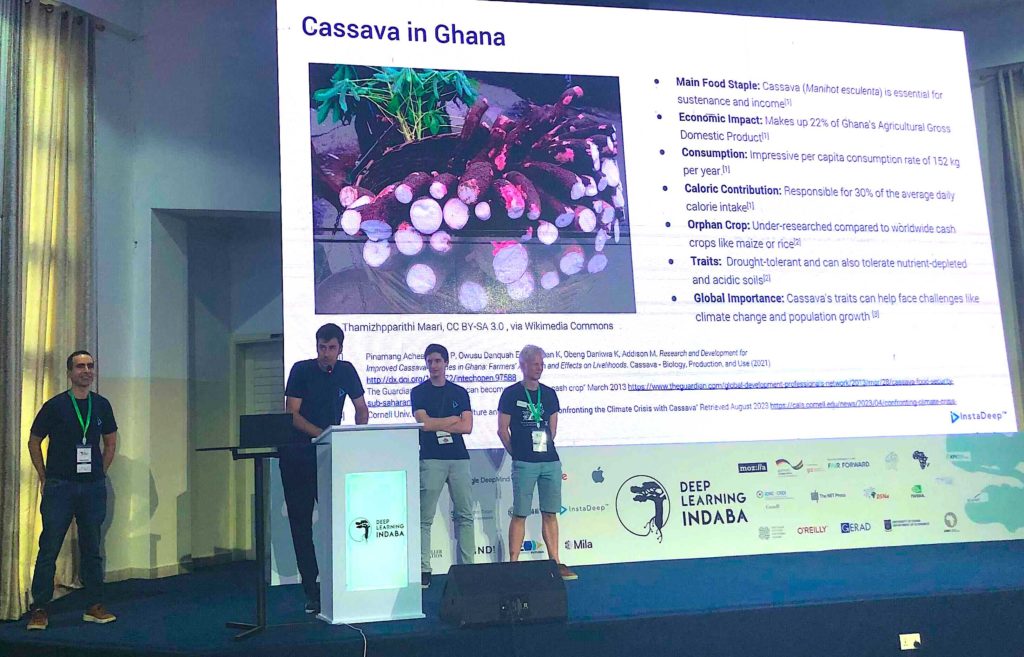 InstaDeep also hosted a screening of the documentary "Cape to Carthage " followed by a panel discussion with the film's cast. The film, which has screened at six film festivals, including the AI International Film Festival in Park City, Utah, the Madison Film Festival, and the Accra Indie Film Festival, follows the journey of African researchers from inception to competing for a spot at one of the top international AI conferences.
InstaDeep, a member of the Deep Learning Indaba steering committee, is proud to participate in what is one of the world's largest machine learning teaching events and extends sincere appreciation to this year's Deep Learning Indaba organizing committee, Zindi, and all the sponsors and partners for their support and contributions.
For those who are interested in attending the upcoming Indaba events, please visit the official website at: https://deeplearningindaba.com/2023/ 
Ready to join the team and contribute to the AI community?  InstaDeep is actively hiring in a range of topics and tracks across its offices in Africa, Europe and North America. Check out our open positions here: https://www.instadeep.com/careers/