Building on the successes of previous years, InstaDeep recently co-hosted the fourth edition of IndabaX Tunisia at the Higher School of Communications of Tunis (SUP'COM). The event, in collaboration with the IEEE SupCom Student Branch, is dedicated to supporting the growth of Artificial Intelligence (AI) and Machine Learning (ML) expertise in Africa, and around 400 passionate participants from diverse academic and professional backgrounds attended. The event's primary objective was to facilitate learning and insightful discussions on the latest advancements, while serving as a mechanism for strengthening the Tunisian AI community and encouraging broader participation and knowledge sharing through workshops, keynotes and a 20-hour hackathon, held in partnership with the data science competition platform Zindi.
Inspiring Keynotes: Exploring the AI landscape and Quantum Machine Learning (QML)
The event's lineup of presenters, consisting of senior experts from InstaDeep and the wider AI community, captured significant attention and interest. Following each keynote, attendees were keen to ask questions and seek clarification from the speakers directly. This interactive element fostered a dynamic and engaging environment, allowing for further exploration of the topics discussed and giving the audience a deeper understanding of the subject matter.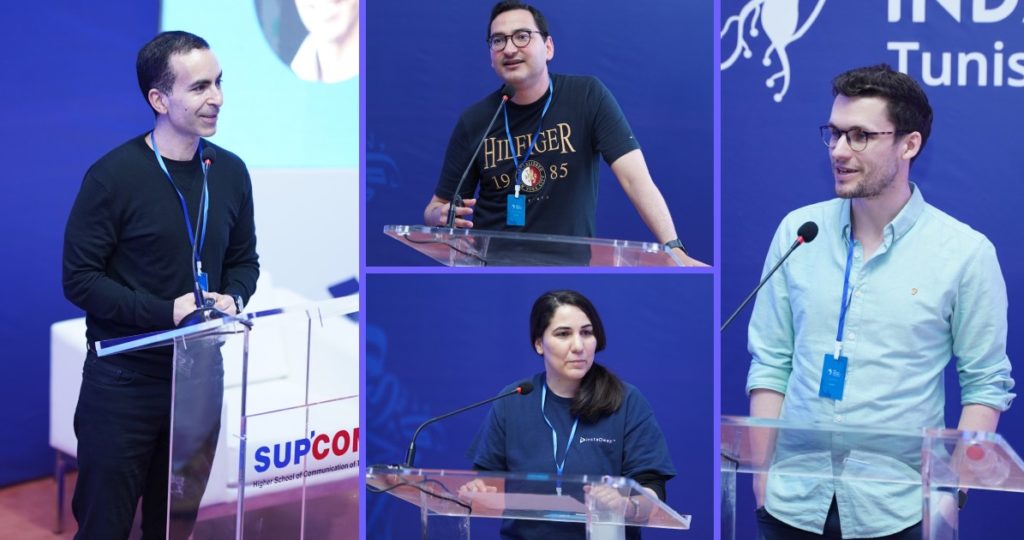 Sinda Ben Salem, Deputy Head of Engineering at InstaDeep, opened proceedings with a presentation about InstaDeep's journey and mission. During her keynote, she touched upon the recent acquisition of InstaDeep by BioNTech, underscoring the company's expanding horizons and the exciting collaborations that lie ahead. She emphasised the dedication of the InstaDeep team in leveraging AI for creating tangible impact and solving complex problems spanning various fields, including logistics, transportation and retail, alongside a deep focus on healthcare and biotechnology. Dr. Ben Salem also extended an invitation to individuals possessing the skills and shared passion for AI, to join the InstaDeep team. Reinforcing this sentiment, she concluded: "In the last few years, we have had the privilege of attracting exceptional talent, including researchers, computational biologists and software engineers – and our growth continues. If you believe in your talent and have the passion to make a genuine impact in the real world, InstaDeep is the ideal environment for you."
With a focus on both quantitative and qualitative advancements, Karim Beguir, InstaDeep's Co-Founder and CEO, delved into the transformative impact of AI and its far-reaching implications for future developments. A central theme of his speech was the emergence of the 'AI supercycle', wherein AI itself acts as a catalyst for accelerated progress in various aspects of the field, including algorithm efficiency, enhanced accuracy, and reduced computational requirements. Drawing on InstaDeep's own innovation, Beguir highlighted the significance of AI in shaping the next generation of hardware, using the example of the company's cutting-edge circuit board routing software, DeepPCB. Echoing this view, Firas Ben Hassen, from Allianz Technology, asserted that Generative AI can create a wide variety of data, such as images, videos, audio, text, and 3D models using different tools. This is accomplished through mimicking human creativity in order to solve complicated issues, produce works of art, and even help with scientific studies by first understanding patterns from the data that already exists.
In the closing keynote, Dr Tom Barrett, research scientist and QML team leader at InstaDeep, discussed the intersection of Quantum Computing (QC) and ML, highlighting advancements in the field. He started with a historical overview of physics, tracing its progress and relevance to the realm of quantum physics and ML. He emphasised the immense potential of quantum technologies, devices, and the study of quantum systems, emphasising their capacity to significantly impact and advance ML applications in the coming years. He also highlighted the complexity associated with solving mathematical equations related to quantum systems, which often exhibit exponential complexity. Despite these challenges, Tom expressed optimism about the progress made this far, noting that while current capabilities are focused on small-scale toy systems, ongoing research and development efforts showed great promise for unlocking the full potential of QC in the context of ML.
Hands-on workshops: Empowering participants with practical knowledge and insights
IndabaX Tunisia delivered a user experience that extended beyond inspiring keynotes, encompassing a series of engaging workshops to provide participants with valuable insights and practical knowledge through many hands-on workshops.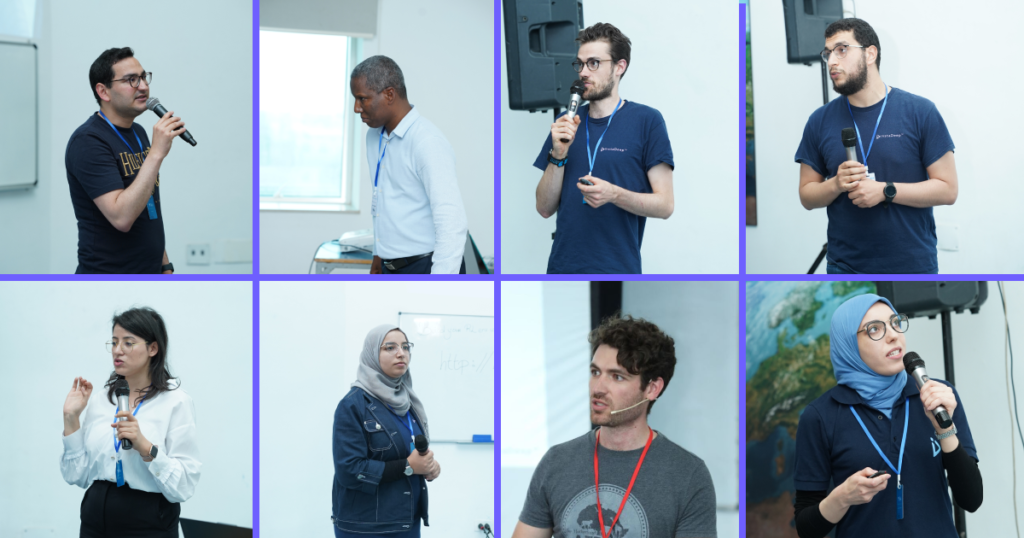 Attendees participated in the initial workshop centred around the creation of a Reinforcement Learning (RL) environment using JAX. This workshop was led by Rihab Gorsane, Oumayma Mahjoub,and Arnu Pretorius from InstaDeep's research team. Simultaneously, another workshop, facilitated by Firas Ben Hassen, offered a deep dive into Large Language Models with Python. Finally, ML enthusiasts were mentored by Mohamed Ould-Elhassen Aoueileyine, an assistant professor and co-founder of Tech4IoT, during his workshop about "ML on Edge Computing".
Meanwhile, for those with a keen interest in BioAI, a workshop was conducted by InstaDeep engineers Khalil Rhouma Ghardaddou, Haifa Ben Messaoud and Oliver Bent. Throughout the workshops, all the speakers fostered an interactive learning environment, encouraging active participation and facilitating open discussions among the participants, with some mentors even sharing their contact information, demonstrating their commitment to providing ongoing support and guidance beyond the event.
A challenge to predict the impact of mutation on protein stability
A highlight of IndabaX Tunisia was the BioAI hackathon. Hackers, whether working in teams or individually, participated in a 20-hour competition focused on sequence-based predictors for the impact of mutation on protein stability. Under the guidance of expert mentors, it provided a collaborative environment where participants exchanged ideas, shared knowledge, and worked together to tackle this complex challenge. On a wider level, the hackathon fostered teamwork, and problem-solving skills, allowing attendees to push their limits and come up with innovative solutions. Using the Zindi platform, participants accessed the comprehensive dataset and detailed hackathon description, enabling them to leverage the necessary resources and effectively address the challenge at hand.
The judging panel, composed of senior engineers and experts in digital transformation from InstaDeep and GIZ, evaluated the participants' submissions and selected the winners, first assessing the submissions on Zindi and shortlisting the top five teams based on code verification and the quality of their outputs. For the second stage, participants had the opportunity to pitch their solutions and articulate their problem-solving approaches directly to the judges. After careful deliberation, the panel unveiled the top three winners of the hackathon, commending their innovation, creative thinking, and effective approaches to problem-solving. Taking first place was team "Aw Sikan Aw Sikan," whose exceptional skills and outstanding solution earned them a well-deserved prize of 4,000 TND. Garnering the second-place honor was team "Sharapova" securing a prize of 3,000 TND. Lastly, team "Flouka" clinched the third-place position, receiving a prize of 2,000 TND in recognition of their solution.
IndabaX 2023: An empowering and collaborative learning experience
The workshops conducted during the event showcased the speakers' steadfast commitment to providing a thorough understanding of the core concepts, despite the broad scope of topics covered – all aligned with IndabaX's mission of unleashing and advancing young talent across Africa. Consequently, the participants were equipped with the essential knowledge and resources to bolster their personal growth and development. The use of real-life examples enhanced the learning experience by making complex concepts more approachable and relatable. Participants from diverse technical backgrounds, including those with limited expertise, found the workshops accessible and well-structured, seamlessly transitioning from one topic to another and building upon previous knowledge. More experienced participants benefited from the workshops, gaining new insights and tools to enhance their skills.
The resounding success of the event is a testament to the dedication of the organizing team. InstaDeep would like to extend its gratitude to everyone involved, especially the invaluable contributions of sponsors and partners including GIZ Tunisia, Elyadata, Zindi, Sup'Com, and Deep Learning Indaba. The company remains committed to empowering and supporting young talent across Africa, and looks forward to the upcoming Deep Learning Indaba, in Ghana this September.
For those who are interested in attending the upcoming IndabaX events, please visit the official website at: https://deeplearningindaba.com/2023/indabax/

>>> InstaDeep is hiring worldwide. If you want to work on cutting-edge projects that are accelerating the quadruple AI exponential, apply today! All opportunities are available at: www.instadeep.com/careers