InstaDeep is pleased to continue its partnership with the Google Developers Group (GDG) and their popular programme of Developers Festivals (DevFests). This December, the company is attending DevFest Sousse and DevFest Beja, and the InstaDeep team will be on site at both events to present talks and workshops, meet GDG students, and discuss final year/Projet de Fin d'étude (PFE) internship opportunities with prospective applicants. Registration to DevFest is free and is open to any developers in the region via the links below.
DevFest Sousse:
The GDG Sousse community is organising the 7th edition of DevFest Sousse on 4-5 December, at the Higher School of Science and Technology of Hammam Sousse (ESSTHS). Organised in partnership with the Clibre association and the Google Developer Student Clubs (GDSC) Sousse, the event aims to train, exchange and share knowledge on Google and other new technologies.
The InstaDeep team will be sharing its expertise with three different presentations:
Progressive Web Apps: How to improve the UX of your Web App – Mohamed Karim Oueslati, Full Stack Web Developer
Natural Language Processing – Nourchene Ferchichi, AI Research Engineer
Google Cloud Platform 4-words – Ibtissem Hattab, Devops Engineer
Apply here to attend the DevFest Sousse https://bit.ly/3IeYLaA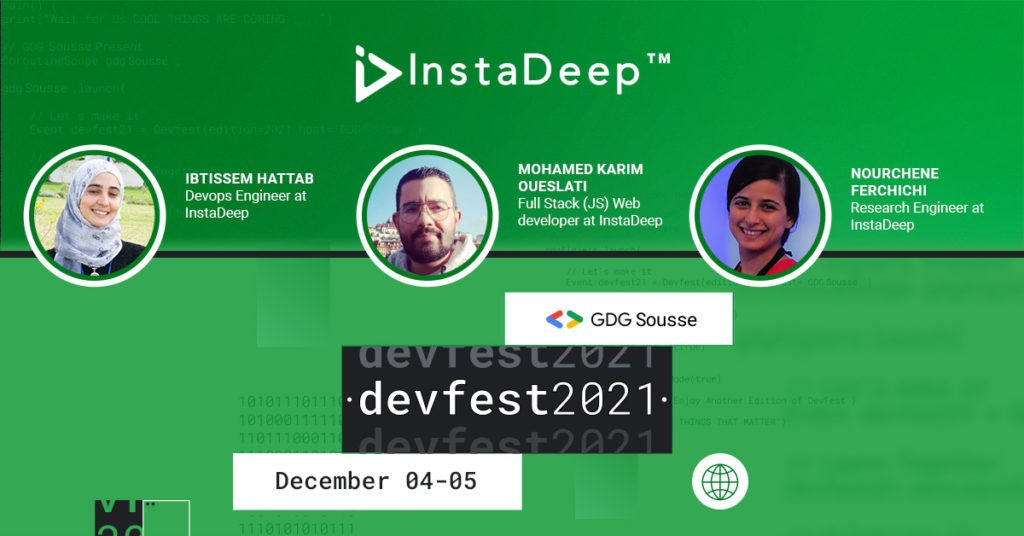 DevFest Beja:
DevFest Beja 2021 is happening on 11 December at the Institut Supérieur des Etudes Technologiques (ISET) Beja. It is the 4th edition of the event and offers a unique opportunity to share and exchange on topics including web, cloud, big data, AI & ML, Mobile, IOT, Marketing Digital, etc.
InstaDeep is a gold sponsor of DevFest Beja and 7 of our AI, DevOps engineers and Web Developers will be sharing their knowledge through talks and workshops:
Talks
Reinforcement Learning a new breed of ML projects – Amine Kerkeni, Head of Engineering
Success Keys for Software Engineer Career – Mohamed Karim Oueslati, Full Stack Web developer
2021's Biggest Advancement in Artificial Intelligence – Nourchene Ferchichi, AI Research Engineer
Humans and machines – Amel Sellami, AI Research Engineer
Workshops
Progressive Web Apps: How to improve the UX of your Web App – Mohamed Karim Weslati, Full Stack Web developer
Handwritten Digits Recognition – Helmi Rebai, Research Engineer
Introduction to reinforcement learning – Sabrine Krichen, Research Engineer
Continuous deployment to Google Kubernetes Engine (GKE) – Ibtissem Hattab, Devops Engineer
Registration form for DevFest Beja https://bit.ly/3IeXBvS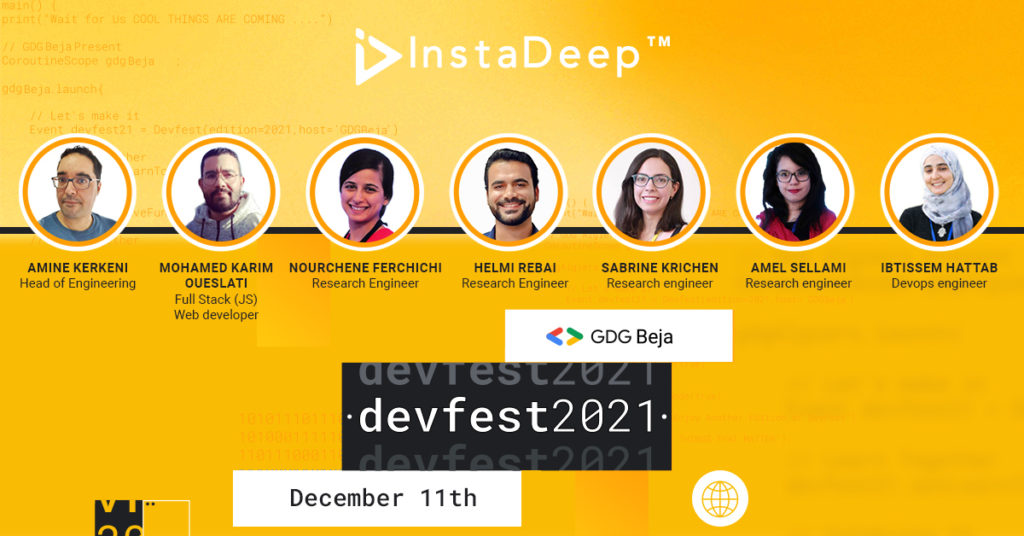 About Google Developer Groups
Google Developer Groups (GDGs) are a global community of developers supported by Google, focused on community building and learning about different Google products and technologies such as Android, Firebase, Google Cloud Platform, Google Assistant, AI, Flutter, Machine Learning with TensorFlow, mobile, and web development. The events include but are not limited to DevFests, conferences, hackathons, codelabs, study jams, and training with speakers & trainees from different technology companies. These events are aimed at developers of all levels. https://developers.google.com/ https://developers.google.com/
About GDG Beja
GDG Beja is a group of developers that foster learning of Google's developer technologies, and a local community-ran meetup for developers interested in resources and technology from Google Developers. https://gdg.community.dev/gdg-beja/
About GDG Sousse
GDG Sousse is a group of developers that foster learning of Google's developer technologies. It's also a local community-run Meetup for developers interested in resources and technology from Google Developers. https://gdg.community.dev/gdg-sousse/
About DevFest
Google's DevFest or "Developers Festival" is the biggest global event series for developers, organised by registered GDGs and focusing on community-led learning on Google technologies. GDGs are made up of developers passionate about Google technologies with a strong focus on knowledge exchange and networking. DevFest events are hosted by GDGs all across the globe, and are uniquely curated to fit the needs and interests of the local community. https://devfest.withgoogle.com/