Wednesday 15 May saw InstaDeep successfully host our first of a four-part series of events looking at Scaling AI in the Enterprise and how we can help business leaders realise the potential of introducing and scaling AI in their company. With a broad mix of people in the audience, from C-suite levels to data scientists, we explored what a strong end-to-end AI-journey could look like. Organised in partnership with technology consultancy firm, 6Point6, the evening was split into two sessions, the first containing three lightning talks and the second a panel discussion and Q&A.
For those who were unable to join us, below is a quick recap of what was discussed along with some pictures from the night. We hope to see you at future events!
'Without features, AI won't feature'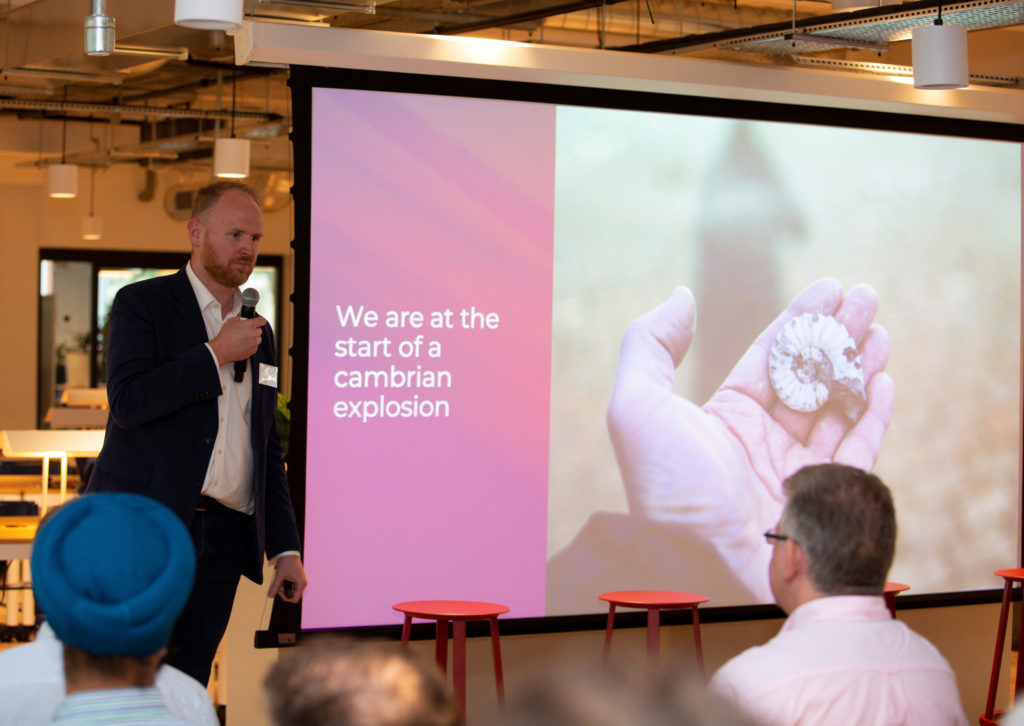 Gary Richardson, MD of Emerging Tech at 6point6, kicked off the evening with his talk  'Without features, AI won't feature', enlightening the audience on feature stores – as if you search for the term today, you'll find, well, not a lot. That's because feature stores while growing in prominence and importance, are yet to be recognised for the vital role that they play in your data strategy. They should form the cornerstone of your enterprise-wide machine learning ambition. In a world of increasing data governance and with data monetisation in mind, it's important to understand exactly what they are and why they should matter to your organisation.
Made up of precomputed features, feature stores create highly curated data to feed into machine learning algorithms – so they represent the computed end of the Data Lake. Feature stores enable highly curated data and consistent training data sets for machine learning. This offers full traceability from the data source to the final outcome.
'AI Smorgasbord'
Next up on the night was our own Head of Machine Learning, Dr Marek Barwinski, who built on his long experience in ML including his seven years at Google DeepMind.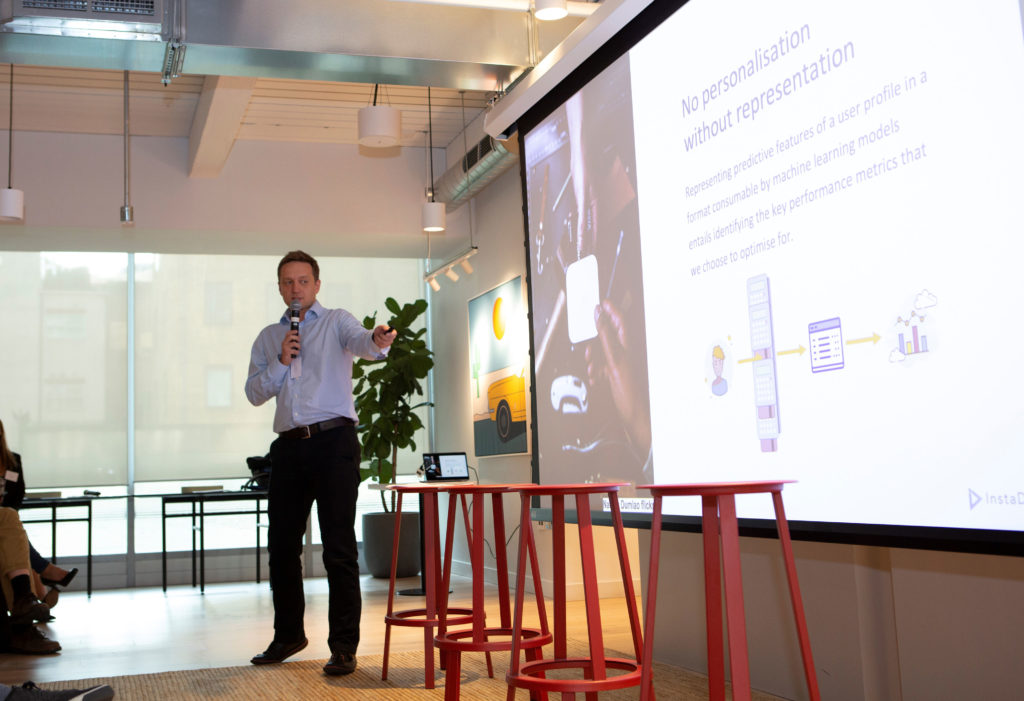 Marek's talk 'AI smorgasbord' started with the fact that user profiles in business often come from human defined clusters and tags. In AI-first personalisation products, however, they come from aggregating user behaviour events and using them to train a predictor of future user actions and associated business metrics. This way we create a positive feedback loop between recommendation quality and user understanding. To bootstrap AI into your business you need to store business metrics and decisions into logs, train a first-decision agent mimicking existing approaches, introduce automated decisions with a human in the loop, and track the differences and outcomes in order to improve the model. The right way to combat bias in decision-making is by constructing a neural architecture that bottlenecks the internal representation such that antidiscrimination protected features cannot be reconstructed. Finally, transfer learning allows for re-using the architecture from expensive pretrained models which can save time and effort when applying it to your problem.
'Explainable AI and Fuzzy Logic Systems'
Professor Hani Hagras, Chief Science Officer at Logical Glue, had the honour of rounding of the lightning talks with his 'Explainable AI and Fuzzy Logic Systems'.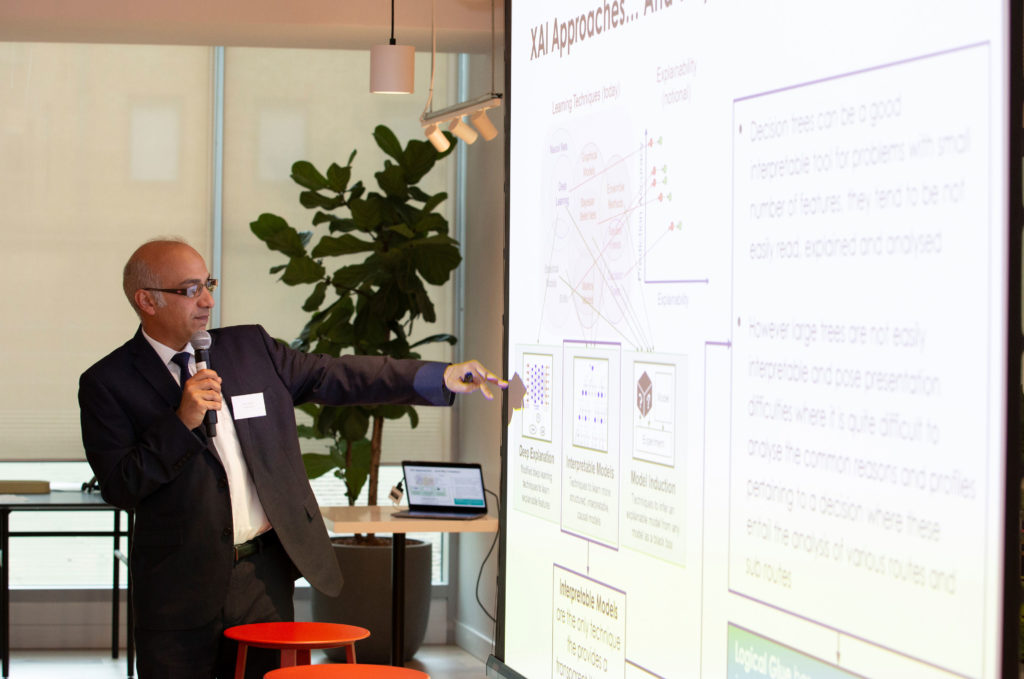 There has been a huge increase in the amount of digital information being generated, stored and available for analysis. The use of complex AI algorithms like Deep Learning can result in a lack of transparency by creating so-called 'black box' models meaning we cannot tell why a system made a decision, they just provide an answer. Enterprises, especially those in financial services, need explainability. This requires transparency, causality, fairness, and safety, which again requires computational intelligence involving developing computational models that try to mimic nature in problem-solving. Fuzzy Logic Systems attempts to mimic human thinking, but not like neural systems do, rather it focuses on the approximate, guestimating side of the brain. Utilising fuzzy logic systems can help scale AI to make more decisions in an organisation.
How to go from 'Proof to Production'
Before kicking off the final part of the night, a networking session over some food and drinks, our panellists took to the stage to discuss how to successfully go from proof to production with AI. Hardening of feature stores was mentioned as a key factor, and furthermore, cultural barriers to installing AI in the enterprise, including how one needs to be more respectful of an organisation's capabilities and goals.
Other emphasised factors included ethics, which is hugely discussed in the AI space in general today, and how AI affects issues such as climate change or agriculture. Finally, the panellists explored real-life applications of AI, getting especially excited about the arena of diagnostic imaging within medicine – an area where AI can contribute significant value to an issue that will affect everyone.
The next three events will be spread out over the next year, stay tuned for information on these!