Join InstaDeep in fighting the flu by participating in UmojaHack Africa
InstaDeep is a proud sponsor of UmojaHack Africa 2021, Africa's biggest inter-university machine learning hackathon. This year we bring you the 'DeepChainTM Antibody Classification Challenge' where we are asking for your help to develop a better treatment to combat future influenza pandemics.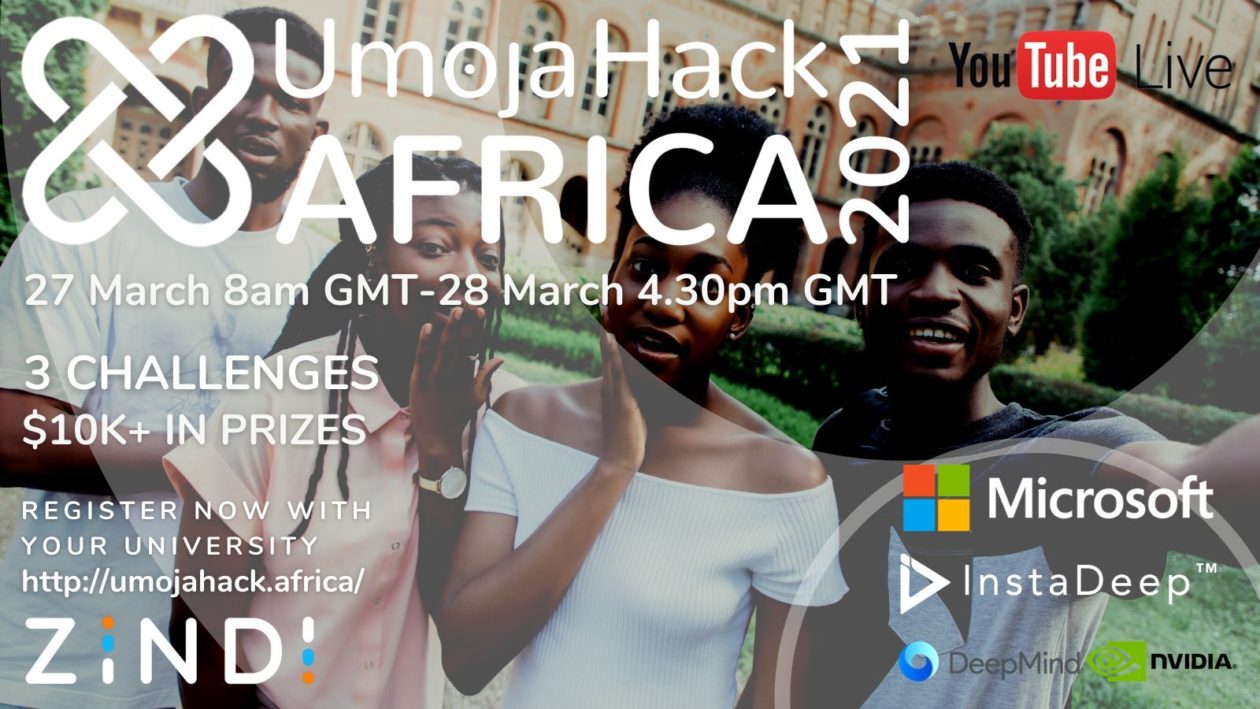 UmojaHack Africa is back for its second year following a successful premiere in 2020! The hackathon, which runs on the Zindi.Africa platform on March 27th and 28th, features three tracks from beginner level to advanced, and InstaDeep is proud to bring you this years' advanced track with the theme of bioinformatics. 
Develop a better treatment to combat future influenza
The track titled 'DeepChain Antibody Classification Challenge' utilises InstaDeep's revolutionary new AI-powered platform, DeepChain™, which uses deep learning to model protein interactions to help design better drugs. One of the things it can be used for is to evaluate the effectiveness of neutralizing antibodies against viruses like COVID-19 and influenza. Therefore, in this challenge, we are asking participating students to help develop a better treatment to combat future influenza pandemics. Our goal is to design a type of protein that we generally call a  neutralising antibody that will effectively target the viral micro-organism, solidly binding to the influenza virus, rendering it inactive and preventing it from infecting cells, which will offer enormous therapeutic potential and help save lives! 
So why the flu? 
Influenza pandemics occur when a new flu virus can infect people and spread globally, and the World Health Organization estimates that between 230-650,000 die of influenza related-causes worldwide every year(1). The Spanish Influenza pandemic of 1918 infected over 500M people, a third of the world population back then, about four times as many as the current COVID-19 pandemic. 
We now use preventive measures to try and prevent such a catastrophe, in the form of annual vaccines. However, influenza's genetic makeup is constantly evolving and mutating, preventing one single vaccine from being effective. Recently the H3N2 variant has been shown to have dangerous pandemic potential, and a possible co-infection with influenza and COVID-19 could carry even higher risks. For this reason, we need neutralising antibodies that can target any new flu variant that might escape current vaccines' protection. As opposed to a vaccine, these would constitute a therapeutic option for patients who are already infected, preventing the virus from spreading and essentially, stalling and defeating the infection. 
Using DeepChainTM, we can score the effectiveness of an influenza-binding antibody. All we need is a starting antibody sequence, and that's where you come in!
So what do I have to do to participate? 
The event is restricted to the participating universities, so firstly make sure your university is amongst the more than 120 universities across 21 countries that have enrolled! Then log in using your university code and add your university to your profile. You then select the track you want to participate in and after this, you are ready to start practising and prepare your team for UmojaHack. All the information you need can be found on the challenge page.
Why should you participate? 
Apart from the obvious that you can help create life-saving treatment, there are great prizes to be won:
1st place: Individual prize – $1000 and university prize $2000

2nd place: $600

3rd place: $400
InstaDeep will also set up internship interviews with the top three teams. What are you waiting for? Sign up now! 
Game-changing event
In addition to creating the biotechnology challenge, InstaDeep is proud to feature as a main sponsor of the event alongside tech leaders such as Microsoft, DeepMind, NVIDIA, Standard Bank, and Old Mutual.
"We are delighted to support UmojaHack Africa again, an incredible initiative close to our hearts. Seeing students from more than 120 universities come together to collaborate on real-world Machine Learning challenges is truly inspiring. This is in our opinion the best way to accelerate AI growth on the continent. Hackathons like UmojaHack bring us one step closer to achieving InstaDeep's mission: building an AI-First world that benefits everyone", says Karim Beguir, Co-Founder and CEO of InstaDeep.
According to the organisers, UmojaHack is about building skills, creating new machine learning applications to solve real-world problems, and forging new connections among the students as well as with the industry. 
"UmojaHack Africa has proven to be a game-changing event, especially when so many young people have been impacted by the global pandemic. This is a chance for students from across the continent to come together to learn, compete, and have fun," says Celina Lee, CEO of Zindi in a press release. "We are incredibly excited to see what the students come up with in just one weekend."
The event will be broadcasted live on Zindi's YouTube channel and on umojahack.africa.
References
https://inews.co.uk/news/health/flu-how-many-people-die-each-year-death-toll-influenza-uk-world-explained-668381
https://www.nature.com/articles/s41577-019-0143-6